​
​
Nelson Camera Club
​
News 2019
PLEASE NOTE:
​All images on this site are protected by copyright laws.
C​opyright belongs to the individual photographers,
​whose permission must be sought for use elsewhere.



To see the Titles of the Images hold your cursor over the image.​​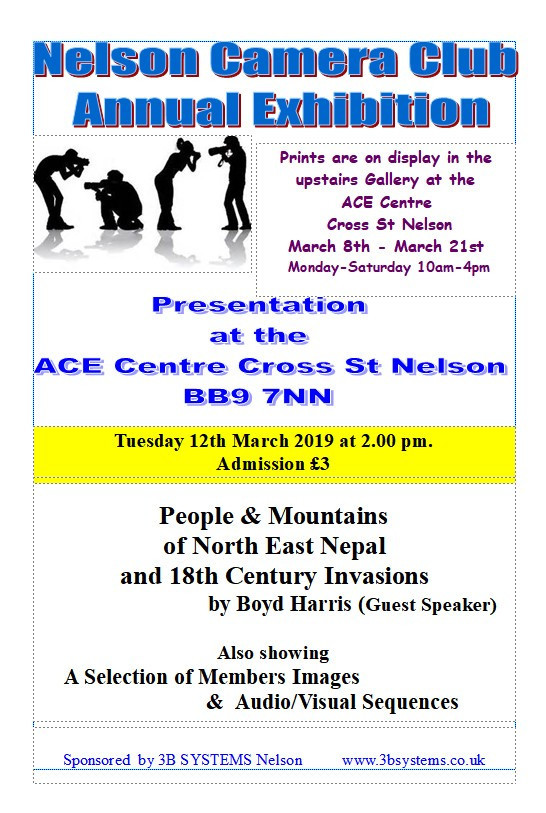 13th January

​​
This years Presentation at the ACE Centre is on Tuesday 12th March 2019 and instead of it being in an evening we are holding it in the afternoon, see the poster on the right >>>
We are very pleased to announce that we have a Guest Speaker this year, Mr. Boyd Harris from Chorley. Boyd has given many illustrated lectures at Nelson Camera Club and they have always been very good. As well as Boyd Harris we will be showing a selection of members images that have done really well in last years competitions plus some Audio Visual sequences produced by the members.
Tickets are now on sale from members of Nelson Camera Club priced at £3.
You can also pay on the door on the day.
​
Doors open 1.30pm for 2.00pm.​​
​
25th January
Our Annual General Meeting was held on Tuesday 22nd January.
​We now have a new president for the next 12 months

Mr Andy Pritchard, he took over from Mr Howard Harrison.
During 2018 our finances went down hill by some £336 so at the AGM it was decided to increase the admission on the door to £2 for members & £2.50 for non members,membership for the club will remain unchanged at £15 for the year.
Also if you would like to know who the new officials are at the club, head over to "Who's Who at the Club"​ to see who they are,

​
25th January
​Bill has updated his Gallery with 17 new images click on this link to go over there to see them.


Any member wishing to update their Gallery or create a new Gallery ​ please contact the Webmaster
( Tony Mellor ) for details.
​​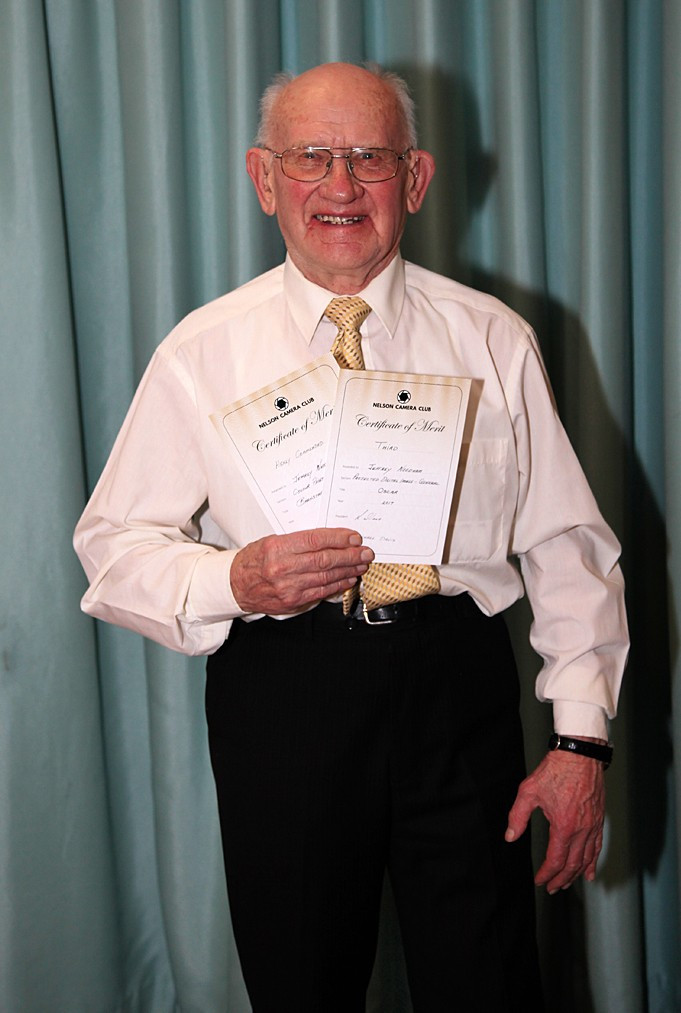 27th January


New Gallery​
Mr. Jeff Needham has now ​published his Gallery of 15 Images, head over to the Galleries page and click on his name, this will take you to Jeff's page.
30th January


Five Minute Av Competition​
​Michael Whittaker CPAGB wins the 2019 Five Minute Audio Visual Competition.
Michael was awarded the trophy ​for the best​ 5 minute AV, "Landscapes of France " a stunning presentation of his images taken while on his trips around France.
Congratulations ​ Michael, well done.​​
24th February


On Saturday 23rd​ February we held our Annual Dinner at
Rosehill House in Burnley, 23 members and guests enjoyed a 3 course meal and after the meal we found out the results of our Annul Competition. Certificates were awarded to members for their work being Commended,Highly Commended & Very Highly Commended plus 3rd & 2nd places, with a Trophy for the winner from each category. This was followed by the raffle and 1 or 2 more drinks and a good night was had by all.


To see all the winners from our Annual Competition please click on this link and it will take you there or go to the main menu and click on "Results 2019"​
1st March


Nelson Camera Club "Free Membership" to new members.


Nelson CC is offering free membership to new members​​ until 2020 in order to boost our membership and encourage people to come and join us. This was discussed by the committee at our last committee meeting and passed unanimously. Over the past couple of years we have seen our membership decline and that we needed to do something about it, so for the next 12 months its free membership to all our new members, come and join us and see what we do.

​
Theres also a change to the way we run competitions, from this year, starting with our first competition in April we will be having 2 seperate competitions, 1 for Advanced workers and 1 for Intermediate workers, and its up to each individual to choose which category you place yourself in. This is to give all members a chance when it comes to entering our competitions. More of this will be explained at our next club meeting.

Also from the 19th March, our more knowledgeable members will be on hand from 7pm till 7.30pm on club nights to give advice and tuition to anyone who needs it, so bring your cameras bring your questions and we will try to answer them for you.

Shortly we will have a new page on our website and its going to be called "Items For Sale" this will be for members only to advertise their unwanted camera equipment (not your 3 piece suite). More on this later, watch this space for details.
​

​​


​

​


​


4th March


The "Items For Sale " page is now up and running​. If you want to advertise on the website please send an email with the details of your advert in the exact manner you would like it to appear on the website, with your name phone number and email address. The advert will be copied from your email and pasted onto the website ( no changes will be made by the webmaster ) so please make sure you have all the info correct. All adverts MUST be sent to webmaster@nelsoncameraclub.com
7th March
​

The L&CPU Annual Club Projected Digital Image Competition.



Nelson Camera Club achieved the following results.


Nature Section

9th Place with 92 marks (8 images) (1st was Bury PS with 102 marks)

Open Section

23rd Place with 167 marks (16 images) (1st was Chorley PS with 200 marks)

Final Club Ranking

20th Place with 259 marks (1st was Chorley PS with 301 marks)

Maximum marks in each section are 15. Of note for our club:-

Roger Johnstone gained 14 for Milk Drop Mycena


and 13 for Black Veined White Butterfly

Michael Whittaker CPAGB gained 13 for Local Man of Oatman


​


Click on the link below to see the full set of results

​​
The Inter Club Photographic Alliance held thier annual knockout competition on Saturday April 13th and this year it was hosted by Chorley PS, who actually won the competition with 52 marks.
Nelson Camera Club came a very creditable 4th with 43 marks. A total of 11 clubs entered.
The images below was our entry on the night.

23rd April


Our first print competition of 2019 was h​eld on the 16th April, now with 2 catagories instead of just 1.
We now have an Intermediate Class & an Advanced Class, so now in theory our judges will have judge 2 competitions, 1 for the Advanced workers & 1 for the Intermediate workers, this was put in place this year to give all our members a chance of winning competitions.
Click here to see the results.
20th May


Digital Image
Competition ​number 1 was held on the 14th May, judged by Ove Alexander CPAGB.
Its not an easy task judging a competition in front of the club members but Ove did a remarkable job in not upsetting any members on the night.
​Full results can be seen here
just click on the link.
24th May


L&CPU Individuals Competition 2019​


Nelson Camera Club members do very well in ​this years Annual Individual competition.


Bill Smith gained 14th place in the Photographer of the Year and Tony Mellor gained 21st place, Bill also gained 8th place in the Digital Photographer of the Year and Tony managed to get 31st place. In the Individual Colour Print category Michael Whittaker came in a creditable​ 28th place and Tony Mellor managed 35th place. We had 9 images held back for exhibition & folio, these will go around the clubs in the L&CPU in the coming months.
In the Nature section Tony Mellor did really well with an image of a Subalpine Warbler he (me) got a full 15 marks and gained 2nd place overall. Anne-Marie Imeson got 2 images in the top band with a score of 13 marks each,very well done, and Michael Whittaker got 13 marks for his image Forever Friends. To see the full results go to the L&CPU website or click on this link.
28th May


The second of our print competitions was held tonight, judged by Mr John Flecther CPAGB of Grindleton. John remarked on the standard of work achieved by our members, especially the Intermediate section.
We had 4 sections to be judged, 2 sections in the Intermediate & 2 in the Advanced. After a lot of deliberation John finally choose the top 3 in each section. Congratulations to all the winners, to see all the places click on this link or go to

​
​
"Results 2019" on our main menu.
21st July


​

A Date for your Diary.... ICPA lecture




Title: An Evening with Alex Benyan and Sony Cameras

Location: Chorley Photographic Society, St Mary's Parish Centre, Devonshire Rd, Chorley PR7 2BY, UK

Date: Monday 2nd September, 7:30pm The costs is £2 per head payable at the door

Includes Buffet, There is a bar​.


Alex is a Principal Photographer for Sony and we will also have the latest Sony cameras and lenses for members to have a play with (organised by Wilkinsons).

​
Alex is a professional photographer, educator and speaker based in Leicester, Leicestershire and a Principal Photographer for Sony. He
specializes
in commercial and corporate portraits and takes inspiration from photographers and artists from all over the world. He is also very much a people person and loves working with individuals and teams to achieve the best results from their
photo-shoot
through gentle posing guidance and personality coaching at every session.
Alex has a genuine passion for teaching and sharing his photographic techniques and approaches with individuals and groups through workshops and events. He also enjoys giving talks and sharing his experiences at events and photography conventions around the UK.
​ To see Alex's Website click on the link below.

12th August


Results of the ICPA Annual Competition






Inter Club Photographic Alliance (ICPA) Annual Competition 2019




In the Digital Image Section Nelson Camera Club gained joint 2nd place with 74 marks

Bill Smith scored a maximum 20 with his image "Starling Feeding Young"

In the Colour Print Section Nelson gained 4th place with 67 marks

In the Monochrome Print Section Nelson Gained 7th Place with 64 marks.


More Details to follow as soon as we have the full results.​
17th August


Nelson Camera Club Print Exhibition, Barrowford Library​


Nelson Camera Club will be holding a print exhibition at Barrowford Library from Saturday 14th September 2019 and it will run until Saturday 12th October 2019. For opening times please see details at Barrowford Library.
Please come along and see the standard of work our members are turning out, and if you would like to join our club we are offering free membership for 2019.
​​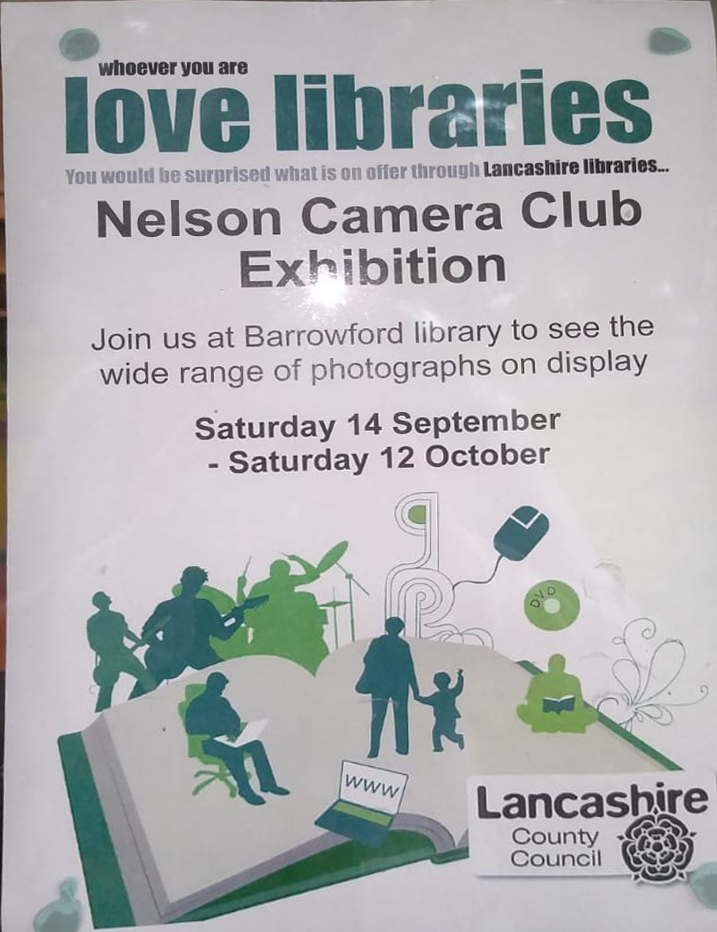 22nd
August


Results of August's Print Competition​


​
The results of August's Print Competition have now been published on the website under "Results 2019".
Mr Bob Rawlinson was our judge for the evening, and he gave some very good feed back on the prints.
Bill Smith once again took 1st place in the Open section and also gained 1st place in the Nature section.
Michele Thompson is having a very good season as well, Michelle took 1st place in the Open Intermediate section and also gained 2nd place in the Nature section. Geoff Atkins was the winner in the Intermediate Nature section with a very good image of a White Tailed Eagle.
Congratulations to all who entered, once again standards were quite high.
Follow this Link to see all the winning images.
10th September


Results of our Digital Image Competition No. 2


The judge for our second Digital Competition​ of the season was
Mr. George Steele CPAGB,LRPS, BPE2* from Rochdale, who is also a member of Bury Photographic Society. George has been judging for quite a number of years around the L&CPU and we have always found him to be a fair judge with good constructive comments.
Quite a few of our new members are doing well in the Intermediate class of our competitions with some promising results with their work.
Mr. Robert Beveridge took 1st, 2nd & 3rd places in the Intermediate Open section, while Korinza Alexander took 1st place in the Nature section, well done both of you.
​Click on this link to see all the results, or navigate to "Results 2019"
​


​
12th September


Nelson Naturalists Society​


Nelson Naturalists​ have Published their Autumn 2019 Programme.


Take a look at their program opposite​, if you like nature I am sure there will be something on their program that will interest you.


New Members & Guests always welcome​


Wednesday's at 7.30pm - Christ Church Nelson


Further info, ring David Nelson 01282 863012​​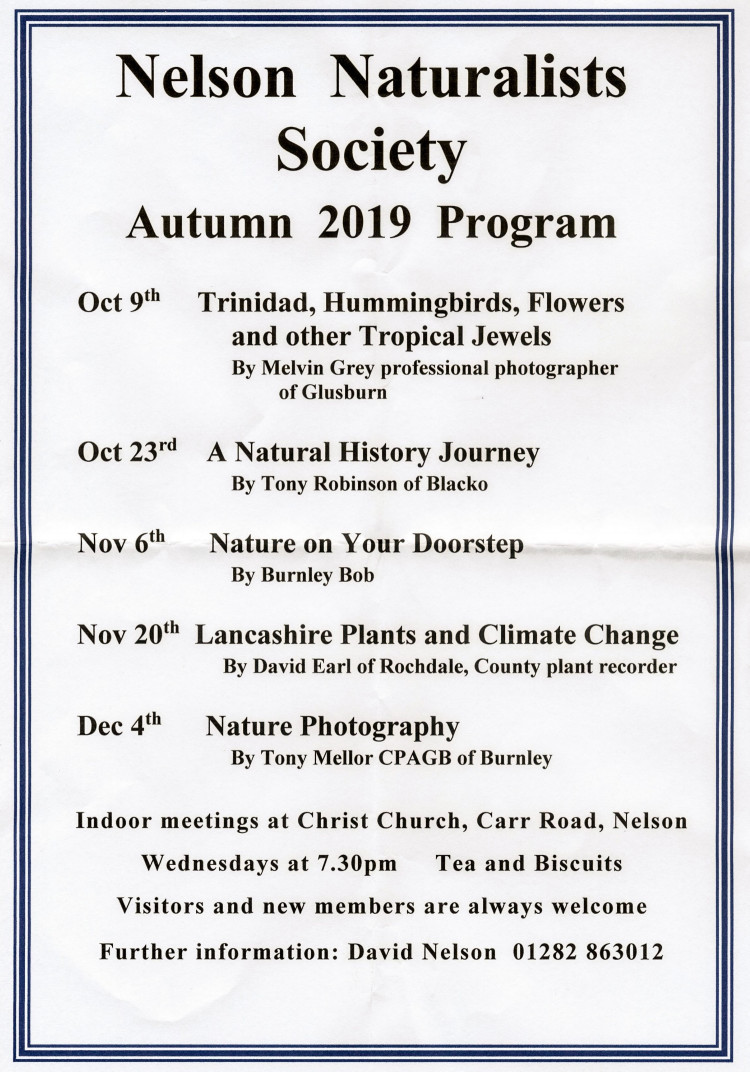 25th September


Results of September's Print Competition​


Our

​fourth print competition of the year was held on Tuesday evening 24th September, with another very strong entry from both the Advanced workers & the Intermediates. There was a total of 36 prints in all and they judged by Michael Davis from Rochdale. Michael has been a photographer for over 70 years with a wealth of experience behind him and he complimented our members on their standard of work they are producing.
Victor Kobak took 1st place in the Intermediate Open section while Howard Harrison took 1st place in the Advanced Nature section as did Tony Mellor taking 1st place in the Advance Open section. Well done everyone.
​Click on this link to see the winning images.
27th September


L & CPU Annual Individuals Competition​


In this years Annual Individual competition organised by the L&CPU, members of Nelson CC did very well.

In the Nature section Tony Mellor did really well with an image of a Subalpine Warbler he got a full 15 marks and gained 2nd place overall, for which he was awarded Nelson Camera Club's first ever