​
​
Nelson Camera Club
​
News 2018
PLEASE NOTE:
​All images on this site are protected by copyright laws.
C​opyright belongs to the individual photographers,
​whose permission must be sought for use elsewhere.
3rd January

Tonight we held our Print and Digital Image of the Year competition, we had 60 entries, 30 prints and 30 DPI's. These were judged by Mr. Adrian Hendley CPAGB of Colne, he had the task of choosing just one print from the print section,and then one DPI from the from the digital section. The night ended with the winning Digital Image of the Year going to Roger Johnstone with "Common Blue Butterflies Mating" and the winning Print went to Bill Smith with " Female Siskin "
You can see the winning images on the Results 2017 page, or click on this link.
Congratulations to Roger & Bill.​​​​
15th January

​​This years Evening Presentation at the ACE Centre is on Tuesday 13th March 2018.
We are pleased to announce we have 3 presentations for that evening.
Roger Johnstone with an illustrated presentation on Butterflies of Great Britain & ​Europe also Studley Royal & Fountains Abbey.
Bill Smith will be showing his images from
Bill & Clares trip to Skye.
Plus, Tony Robinson will be doing an illustrated lecture with ​ A Natural History Journey​​​. Tickets are now on sale from members of Nelson Camera Club priced at £4.
You can also pay on the door on the evening.
Doors open 7pm for 7.30pm.​​
​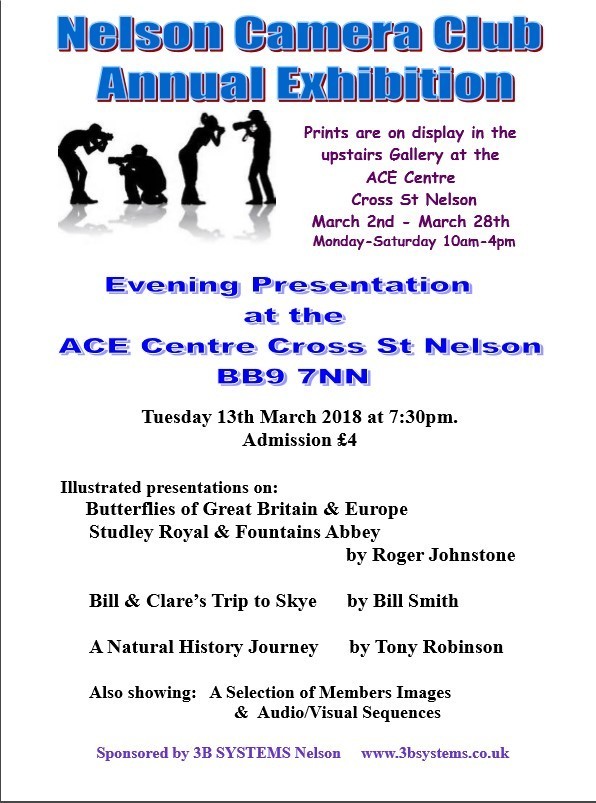 15th January

Nelson Naturalists Society​

Spring

Programme

2018​




Further information 01282 863012​​​​​​​​

​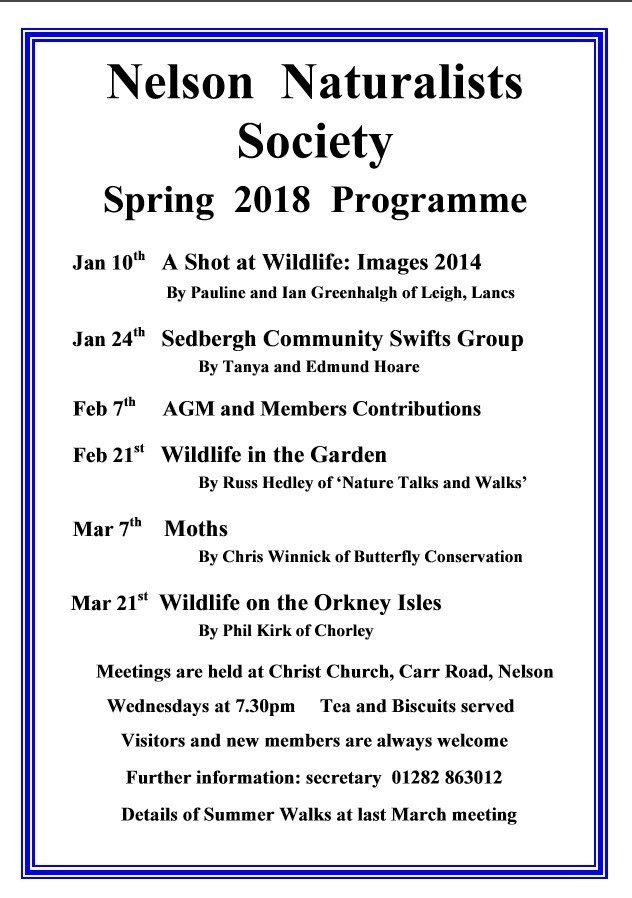 19th January



​​Our Annual General Meeting was held on Tuesday 16th January.
​We now have a new president for the next 12 months Mr Howard Harrison, he took over from Mr Ken Wilmore.
​There are changes to Print Competition rules, we have decided to have 2 categories in future competitions, Open & Nature and these will be judged separately, go to the Competitions page to read the changes.
Also if you would like to know who the new officials are at the club, head over to "Who's Who at the Club"​
31st January

Jeff Needham wins the 2018 Five Minute Audio Visual Competition.
Jeff was awarded the trophy ​for the best
​ 5 minute AV, " Walking Devon & Cornwall Coast Path " a stunning presentation of his walks on the way to Lands End.
Congratulations ​ Jeff, well done.​​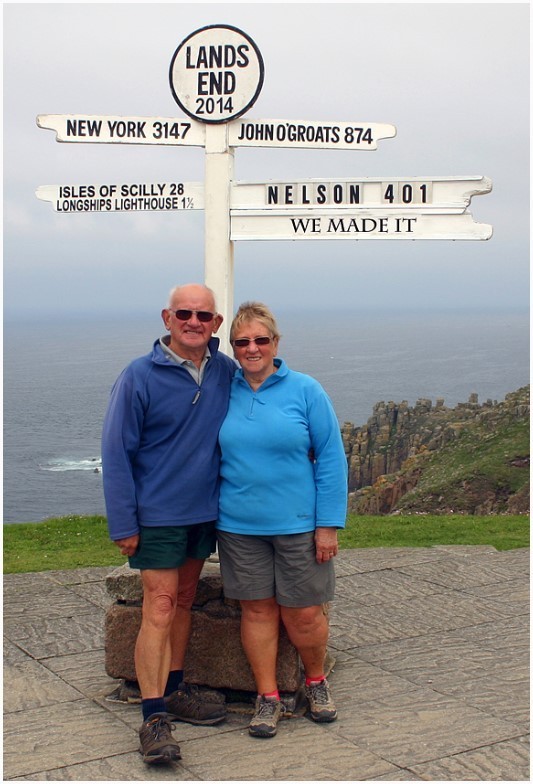 6th February

John R Barlow ​Wild Bird Photographer gave us a presentation of the wildlife that he has photographed in and around his local area.
The presentation and the images were excellent, as was the knowledge of how he had taken the images​. To see more of John's images visit his website on this link. www.jrbarlow.co.uk​
20th February

Presentation night ​of trophy's and certificates for those who entered the Annual Print & Digital Competition. There was a total of 7 trophy's to be won, and certificate's for Commended and Highly Commended. We had a good mix of members gaining trophies and certificates.
This year we held the awards presentation in our own club room at Walton Lane, and we think that it went down very well with our members, who enjoyed tea and cake afterwards​.
To see the winning images go to "Results 2018" on our Competitions page or click this link to go there.​​
Our members being presented
with their awards by our president Howard Harrison​.
26th February

Anne-Marie Imeson has updated her Gallery with new images.
​Take a look by clicking on this link.​​
5th March

Nelson Camera Club are pleased to announce ​that we now have a
​Twitter Account, so for all you tweeters out there you can follow us on
@Nelson_Camera​. Happy Tweeting.​

5th March

Nelson Camera Clubs ​Annual Print Exhibition​
​is now on at the ACE Centre Cross St. Nelson​.​
​Prints are on display in the upstairs gallery at the ACE Centre until
​28th March. Mon to Sat, 10am to 4pm. Entrance is free.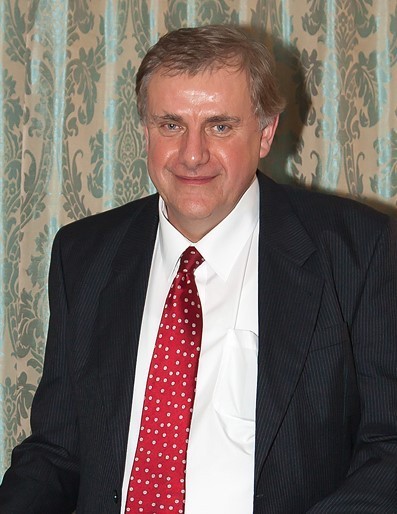 10th March

We regret to announce that Geoff Proctor, treasurer and valued member passed away on Thursday 8th March. Geoff had been a member of Nelson Camera Club for quite a number of years, he was the clubs treasurer and committee member, he will be sadly missed.
Funeral will take place at Skipton Crematorium on Thursday 22nd March at 1.20pm.​
5th April



The L&CPU Annual Club Digital Competition



After a hard day of judging by Phil Charnock FRPS MSIAP, Gwen Charnock FRPS MSIAP and Dianne Owen FRPS, ​​​​
​the L&CPU once again demonstrated the outstanding quality of photography in the federation.

​​​​​​​​​

We now have the results of Nelsons entry in the L&CPU Annual Club Digital Competition 2018.
This was judged on 5th April 2018.




In the

Colour

Section

Nelson

gained

7th place

with

90 marks

(Winners Chorley PS with 99 marks)

In The

Nature

Section

Nelson

gained

11th place

with

89 marks

(Winners Chorley PS with 107 marks)

In the

Monochrome

Section

Nelson

gained

17th place

with

82 marks

(Winners Chorley PS with 101 marks)




There was an entry from

34 clubs

and in the

Final Club Rankings

Nelson

gained a very creditable 12th place

with a

total of 261

​​.


Results for all the clubs who entered can be seen HERE​

​
Nelsons Entry in the L&CPU Club Digital Competition