​
​
Nelson Camera Club
​
News 2018
PLEASE NOTE:
​All images on this site are protected by copyright laws.
C​opyright belongs to the individual photographers,
​whose permission must be sought for use elsewhere.
3rd January

Tonight we held our Print and Digital Image of the Year competition, we had 60 entries, 30 prints and 30 DPI's. These were judged by Mr. Adrian Hendley CPAGB of Colne, he had the task of choosing just one print from the print section,and then one DPI from the from the digital section. The night ended with the winning Digital Image of the Year going to Roger Johnstone with "Common Blue Butterflies Mating" and the winning Print went to Bill Smith with " Female Siskin "
You can see the winning images on the Results 2017 page, or click on this link.
Congratulations to Roger & Bill.​​​​
15th January

​​This years Evening Presentation at the ACE Centre is on Tuesday 13th March 2018.
We are pleased to announce we have 3 presentations for that evening.
Roger Johnstone with an illustrated presentation on Butterflies of Great Britain & ​Europe also Studley Royal & Fountains Abbey.
Bill Smith will be showing his images from
Bill & Clares trip to Skye.
Plus, Tony Robinson will be doing an illustrated lecture with ​ A Natural History Journey​​​. Tickets are now on sale from members of Nelson Camera Club priced at £4.
You can also pay on the door on the evening.
Doors open 7pm for 7.30pm.​​
​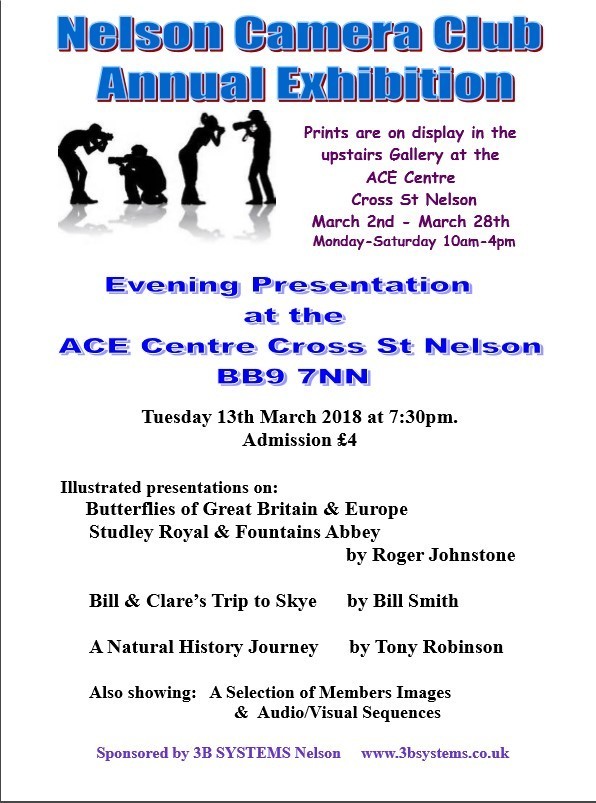 15th January

Nelson Naturalists Society​

Spring

Programme

2018​




Further information 01282 863012​​​​​​​​

​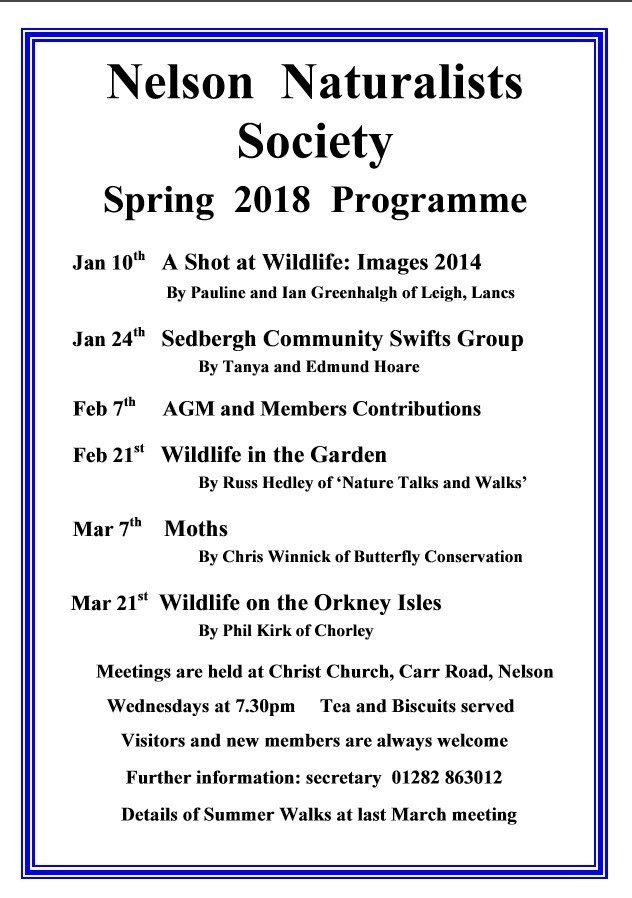 19th January



​​Our Annual General Meeting was held on Tuesday 16th January.
​We now have a new president for the next 12 months Mr Howard Harrison, he took over from Mr Ken Wilmore.
​There are changes to Print Competition rules, we have decided to have 2 categories in future competitions, Open & Nature and these will be judged separately, go to the Competitions page to read the changes.
Also if you would like to know who the new officials are at the club, head over to "Who's Who at the Club"​