​
​
Nelson Camera Club
​
News 2020
PLEASE NOTE:
​All images on this site are protected by copyright laws.
C​opyright belongs to the individual photographers,
​whose permission must be sought for use elsewhere.



To see the Titles of the Images hold your cursor over the image.​​
5th January


Nelson Naturalists Society
Spring Programme 2020


Nelson Naturalists have published their Spring Programme for 2020. If you enjoy anything to do with nature this could be a good night out for you.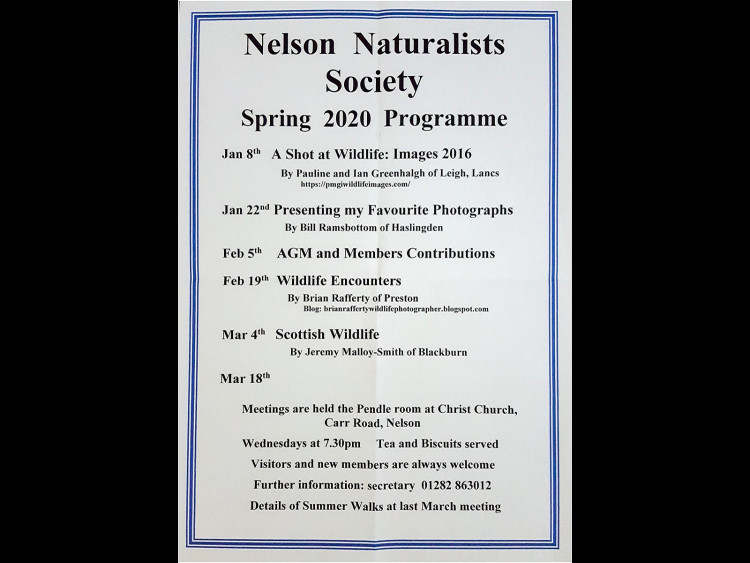 8th January
​


New Syllabus Published​
​

Thanks to the hard work our Syllabus Secretary, Mr. Geoff Atkins, our club programme has now been published for the next 6 months. To see all the up and coming events, speakers, competitions, tutorials, and of course our well attended Members Nights, head over to our
​
" Club Diary " page. Or follow this link.
21st January


Annual General Meeting​


​Our Annual General Meeting was held on Tuesday 22nd January.
​We now have a new president for the next 12 months Mr. Ken Wilmore, he took over from
Mr Andy Pritchard.
During 2019 our finances went down hill by some £400,but that was due to the club purchasing a new laptop, so at the AGM it was decided not to increase the admission on the door and to leave the annual subscriptions unchanged at £15 for the year.
We have 2 new committee members, Mr Bill Smith & Ms Michele Thompson, its good to see our members taking part in the running of the club, and we look forward to their input in the coming 12 months. If you would like to know who the new officials are at the club, head over to "Who's Who at the Club"​ to see who they are.
22nd January


​

Pendle Powerfest at Turf moor (Photo

Opportunity

) 25th April 2020

Our Spring meeting is on the 25th April at Turf Moor 10.00am til 2.00pm.
Free parking, no entry fee, and you will be able to get food and a brew, come along and shoot as many photos as you can.​ If you like Classic cars put this date in your diary.
29th January


Members 5 Minute Audio Visual competition result​.


Every year​ at our club we
hold a competition for the best 5 Minute Av ( Audio Visual ). Our members make up slideshows, mainly in software called "Pictures to Exe" and they can put as many images and music into their slideshow as they want to as long as it does not exceed 5 minutes, the subject matter can be anything they want it to be. This years winner was a repeat of last year with Michael Whittaker CPAGB taking the trophy. Michael put together a sequence of landscape images that he had taken in Scotland along with his choice of music to go with it,
"The Beauty of Scotland"
and when the votes were counted he came out a clear winner. Well done Michael...again. This AV will be shown at or Ace Centre Presentation on Tuesday 10th March along with 3 lectures from our members.
30th January

Nelson Camera Club's Annual Exhibition & Presentation​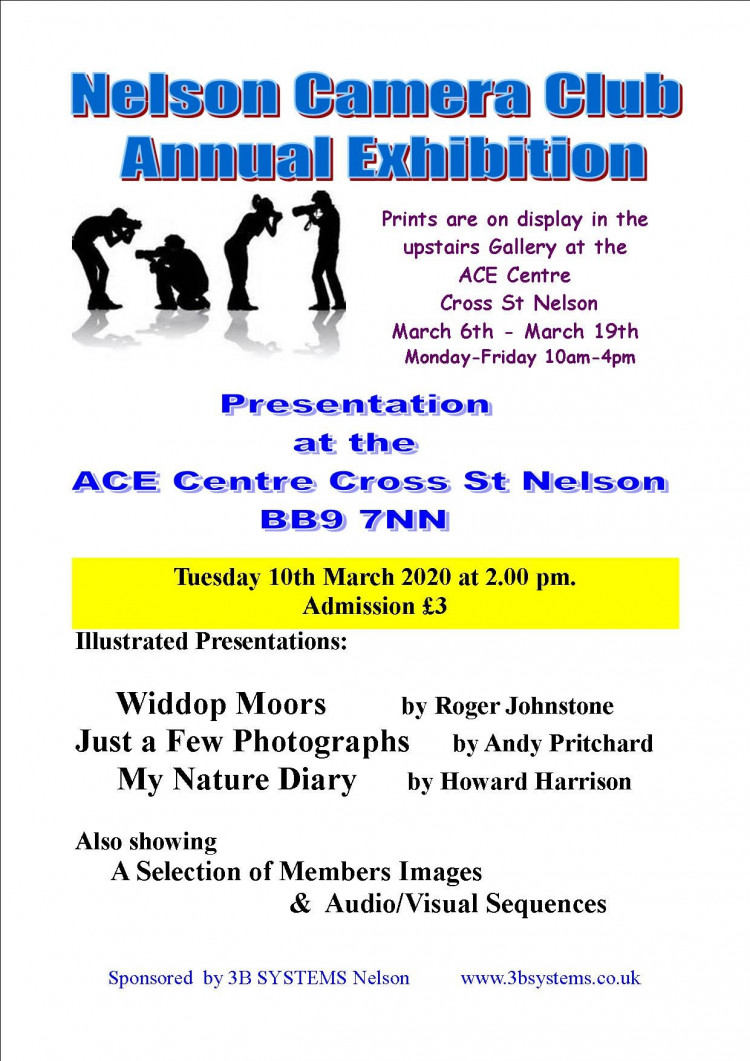 22nd February


Annual Competition Results​


Saturday​ evening 22nd February we held our Annual Dinner and this year it was at the Rolls Royce club in Barnoldswick. This event is open to members & guests and we were made very welcome, with good food and really good service, a good night was had by all. After the meal we all found out who had won the trophy's and certificates in this years Annual Competition. The judges for our Annual Competition this year were Mr. Harry Emmett CPAGB of Accrington who judged the Digital Images and Mr John Fletcher CPSGB from Grindleton judged the prints, both judges remarked on the high standard of work that our members are creating. All the results and the images can now be seen on our " Result 2020" page.


​
Or you can click on this link to see them.
​


Images From Our Annual Dinner & Presentation
8th March


L&CPU Annual Club Digital Competition​


The results of the L&CPU Annual Club Digital Competition 2020 which was judged on Saturday 7th are now published on the L&CPU website, click on this link for the full results.

L&CPU website



There was an entry from 37 clubs.

In the Open Section Nelson came 14th with 180 marks (16 images)

The winning club was Warrington PS with 211 marks.

In the Nature Section Nelson came 14th with 90 marks (8 images)

The winning club was South Manchester with 106 marks.

In the Overall Club Placing Nelson came 13th (270 marks)

The winning club was Chorley PS with 310 marks

Two of our images gained a mark of 13 out of a possible 15 -

"Bearded Tit Male" by Anne-Marie Imeson and "Mycena Arcangeliana Angel's Bonnet" by Roger Johnstone
25th March


New Member & A New Gallery​


I am pleased to announce that we have a new member
​

who joined us last week, his name is Mr. Stephen Singleton and he lives in Nelson, so on behalf of our club I would like to say welcome and we look forward to meeting you as soon as things get back to normal.


Stephen has also sent some images in to put on his Gallery, you can view it from this link.​