​
​
Nelson Camera Club
​
News 2020
PLEASE NOTE:
​All images on this site are protected by copyright laws.
C​opyright belongs to the individual photographers,
​whose permission must be sought for use elsewhere.



To see the Titles of the Images hold your cursor over the image.​​
5th January


Nelson Naturalists Society
Spring Programme 2020


Nelson Naturalists have published their Spring Programme for 2020. If you enjoy anything to do with nature this could be a good night out for you.
8th January
​


New Syllabus Published​
​

Thanks to the hard work our Syllabus Secretary, Mr. Geoff Atkins, our club programme has now been published for the next 6 months. To see all the up and coming events, speakers, competitions, tutorials, and of course our well attended Members Nights, head over to our
​
" Club Diary " page. Or follow this link.
21st January


Annual General Meeting​


​Our Annual General Meeting was held on Tuesday 22nd January.
​We now have a new president for the next 12 months Mr. Ken Wilmore, he took over from
Mr Andy Pritchard.
During 2019 our finances went down hill by some £400,but that was due to the club purchasing a new laptop, so at the AGM it was decided not to increase the admission on the door and to leave the annual subscriptions unchanged at £15 for the year.
We have 2 new committee members, Mr Bill Smith & Ms Michele Thompson, its good to see our members taking part in the running of the club, and we look forward to their input in the coming 12 months. If you would like to know who the new officials are at the club, head over to "Who's Who at the Club"​ to see who they are.
22nd January


​

Pendle Powerfest at Turf moor (Photo

Opportunity

) 25th April 2020

Our Spring meeting is on the 25th April at Turf Moor 10.00am til 2.00pm.
Free parking, no entry fee, and you will be able to get food and a brew, come along and shoot as many photos as you can.​ If you like Classic cars put this date in your diary.
29th January


Members 5 Minute Audio Visual competition result​.


Every year​ at our club we
hold a competition for the best 5 Minute Av ( Audio Visual ). Our members make up slideshows, mainly in software called "Pictures to Exe" and they can put as many images and music into their slideshow as they want to as long as it does not exceed 5 minutes, the subject matter can be anything they want it to be. This years winner was a repeat of last year with Michael Whittaker CPAGB taking the trophy. Michael put together a sequence of landscape images that he had taken in Scotland along with his choice of music to go with it,
"The Beauty of Scotland"
and when the votes were counted he came out a clear winner. Well done Michael...again. This AV will be shown at or Ace Centre Presentation on Tuesday 10th March along with 3 lectures from our members.
30th January

Nelson Camera Club's Annual Exhibition & Presentation​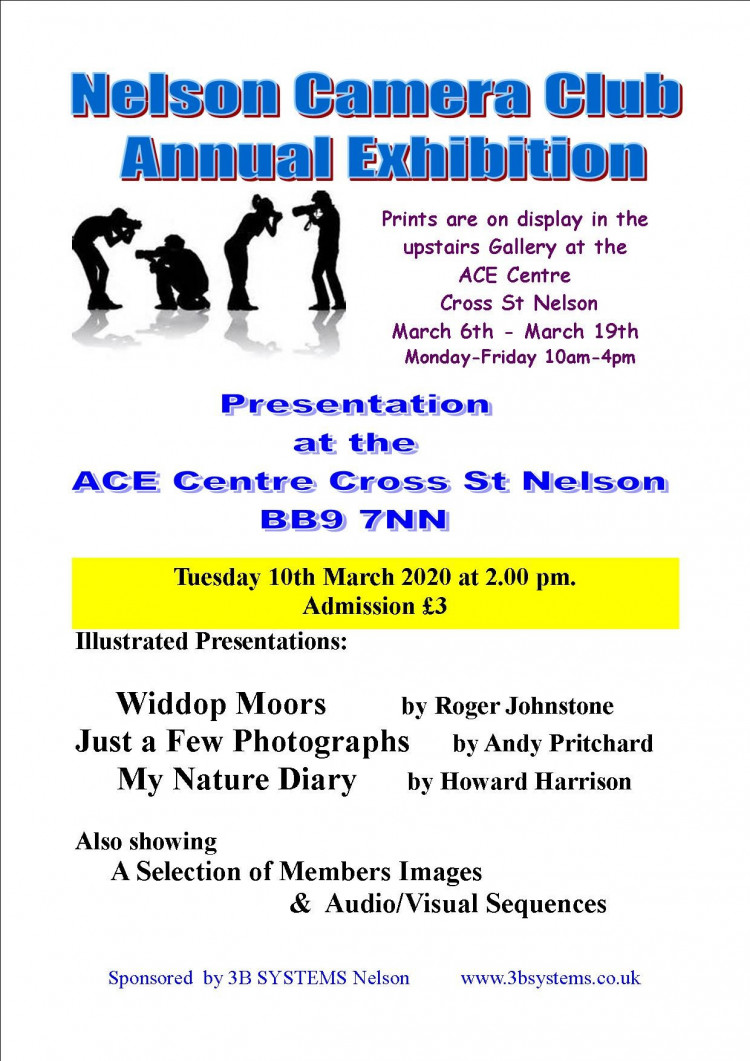 22nd February


Annual Competition Results​


Saturday​ evening 22nd February we held our Annual Dinner and this year it was at the Rolls Royce club in Barnoldswick. This event is open to members & guests and we were made very welcome, with good food and really good service, a good night was had by all. After the meal we all found out who had won the trophy's and certificates in this years Annual Competition. The judges for our Annual Competition this year were Mr. Harry Emmett CPAGB of Accrington who judged the Digital Images and Mr John Fletcher CPSGB from Grindleton judged the prints, both judges remarked on the high standard of work that our members are creating. All the results and the images can now be seen on our " Result 2020" page.


​
Or you can click on this link to see them.
​


Images From Our Annual Dinner & Presentation
8th March


L&CPU Annual Club Digital Competition​


The results of the L&CPU Annual Club Digital Competition 2020 which was judged on Saturday 7th are now published on the L&CPU website, click on this link for the full results.

L&CPU website



There was an entry from 37 clubs.

In the Open Section Nelson came 14th with 180 marks (16 images)

The winning club was Warrington PS with 211 marks.

In the Nature Section Nelson came 14th with 90 marks (8 images)

The winning club was South Manchester with 106 marks.

In the Overall Club Placing Nelson came 13th (270 marks)

The winning club was Chorley PS with 310 marks

Two of our images gained a mark of 13 out of a possible 15 -

"Bearded Tit Male" by Anne-Marie Imeson and "Mycena Arcangeliana Angel's Bonnet" by Roger Johnstone
25th March


New Member & A New Gallery​


I am pleased to announce that we have a new member
​

who joined us last week, his name is Mr. Stephen Singleton and he lives in Nelson, so on behalf of our club I would like to say welcome and we look forward to meeting you as soon as things get back to normal.


Stephen has also sent some images in to put on his Gallery, you can view it from this link.​
May 2020


Whilst ​we have been on lock-down due to the Corona Virus outbreak we have not bee able to hold our weekly club meetings, however we have been able to run On-Line Digital Competitions to keep the interest of our members going. Up to now we have held 3 competitions. The first one was an Open competition, we had 19 entries (each member could only enter 1 image) with a wide variety of subjects, Tony Mellor CPAGB won the first competition with a portrait entitled "Senorita " with a total of 161 marks, each member marked each image out of 10.
The second competition was also an Open competition and we had a total of 20
entries, Tony Robinson won this one with his image of a " Great Spotted Woodpecker " after all the marks were totalled up Tony got 157 marks.
The 3rd competition we changed the format and held a " Table Top " competition, hoping everyone would get their cameras out and find a subject for their table tops and they did with some remarkable and interesting results, again Tony Mellor won this one with his image of "Fly Tying - The General Practitioner" (that's the name of the fly ) with a total of 177 marks. We had a total of 21 entries for this competition, and I think we all thoroughly enjoyed it. " Link to full results. "


​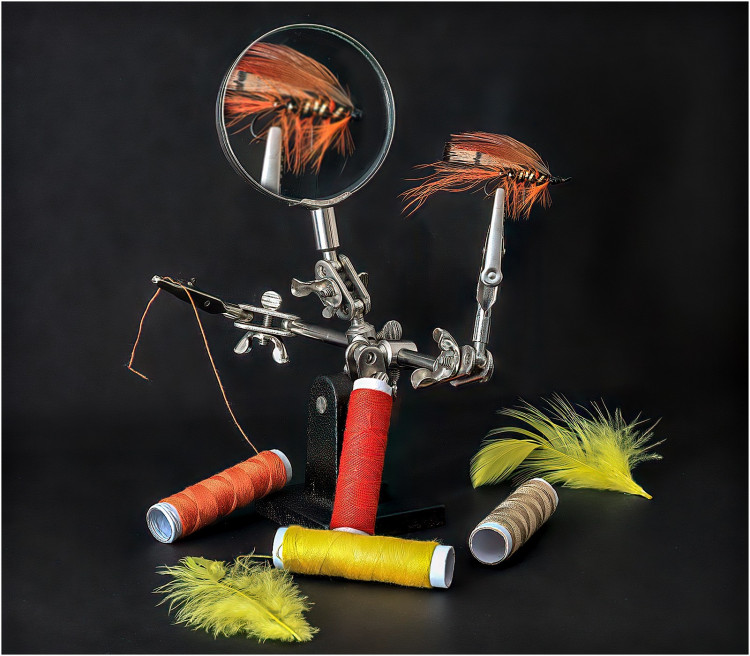 Fly Tying - The General Practitioner
June 2020


Our 4th On - Line Digital Competition was held​ at the beginning of June and we had another good entry. There was 21
entries in our Open Mono competition and each member gets to judge each image and score it out of 10 points, once again the winning image came from Tony Mellor with his portrait "Feathers & Pearls". Mr. Tony Robinson came 2nd with his image of "Starling Feeding Time" whilst Anne-Marie Imeson came a very close 3rd with her portrait of "Jean".
Well done everybody who entered and thanks again for supporting these competitions in these bad times. Stay Safe.
July 2020

L&CPU Annual Individuals Competition 2020

Quite a few of our members entered this competition, some for the very first time​​, and we all did extremely well.
Our president Mr. Ken Wilmore recieved a Commended for his image "Great Tit Feeding Young" which scored 14 marks out of a possible 15, and another one of he's images scored 13, well done Ken​.
Follow the link below to see a full set of marks & places from all the people who entered, throughout the L&CPU​​​​​​​

​​https://www.lcpu-portal.org/documents/Doc1452.pdf
Great Tit Feeding Young - Ken Wilmore
July 2020

We have two new Galleries on the website​​, one from Michelle Thompson and one from Mike Dickinson. Go over to the Gallery page and click on their links to see their images.
Click on this link to go to the "Galleries page"​
July 2020
On-Line Digital Competition results​​ are now on the website.
Tony Mellor won it again (I'm sorry) with his image of the
Red Arrows at Blackpool a few years back, " Colour Burst " was the title​. Anne-Marie Imeson came 2nd with her
Green Hairsteak & Bill Smith got 3rd place with his shot of Lochen Urr, Glen Etive. Well done everybody, we had some really good images in this competition.
Stay Safe​.
Top 3 in July's Competition
August 2020
The results for our 6th On-Line Digital Competition have now been published on the website. We had 16 entries for our latest competition and they were all of a high standard.
Tony Robinson gained !st Place with his image of a Meadow Pipit whilst Bill Smith came 2nd with his image of a Goldfinch feeding it's young. Anne-Marie Imeson again received high marks with her image of a Grey Wagtail​, well done Anne-Marie.

Again, well done everyone who entered​​, the standard is getting higher.

Keep Well & Stay Safe.​​
Top 3 in August's Competition
September 2020


​​​​It is with great sadness that we have to announce the death of
​Edmund Hirst who passed away on 5th September 2020.
Edmund was a long standing member of Nelson Camera Club who had served on the committee and as President .
He was well respected for his expertise in photography as well as his super Audio Visual's which everyone at the club enjoyed, and he also helped many of our new members to establish themselves in the club.
He will be greatly missed.
​
Some of the nice comments received at the news of Edmunds passing.

​​"Edmund was a great character and we will miss him at the club."

​​"A very sad day indeed, an absolute legend of Nelson Camera Club, may he rest in peace"
​
​​"So sad to here this news. Had many long conversations with Edmund. Such a nice man.
Loved his easy style with his videos. My condolences to his family."

​
​​
October 2020



We have another new Gallery on our website

​​,

this time the images belong to our good friend Mr. Tony Robinson.
To see Tony's images go over to the Galleries page and click on the link to view the slideshow. Or use this link.​
October 2020

​​​​​​
It is with deepest regret that we have to announce the death of
​Tony Robinson who passed away in the early hours of
7th October 2020. Tony was a valued member and a close friend of myself and many others in our club, he will be sadly missed.

The image is of Tony receiving one of his many awards from our president at the time Mr. Howard Harrison​​
November 2020
November saw our latest On-Line Digital Image Competition​
​ being run. This months competition had a total entry of 21 images, all of a very good standard, the results showed this. There was only 1 point separating the top 3 places. In 1st place was Andy Pritchard with " The Secret Watermill " 2nd place went to Geoff Atkins with " Burrowing Owl " and Tony Mellor took 3rd place with " Embden Goose, Head Detail " Well done everyone who entered for another superb competition.
1st - The Secret Watermill.
3rd - Embden Goose, Head Detail